Sarah MacLean's site is up!
Sarah MacLean's newly redesigned website is up
, and it features my artwork! She hired me earlier this year to depict her characters from her novels "The Season" and "Nine Rules to Break when Romancing a Rake," and they're all there now on her site. It was a great job, a lot of fun, and I can't wait to read more of her books.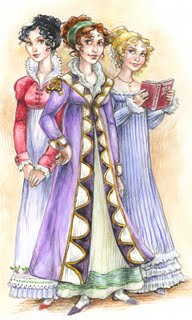 Here's the intrepid trio of girls from "The Season," Vivi, Alex and Ella respectively, dressed in day dresses circa 1815. "The Season" is Alex's story, and it's a fun, frothy story very much in the vein of Georgette Heyer, with romance, ballgowns, adolescent angst, a murder, and a villainous rake I'd love to see more of. It can be purchased
here
.
And here's Callie and Ralston, the hero and heroine from Sarah's upcoming romance from Avon/HarperCollins, "Nine Rules to Break When Romancing a Rake." These two are dressed to party like it's 1820, with miss in a hyacinth-blue ballgown with Renaissance-inspired trimmings, and milord in a frock coat and riding boots. I read a few chapters to get the feeling of the characters, but it was smart, sexy and charming. I'm excited to read the rest of it when it comes out next year!
Labels: regency fashion, regency romance, sarah maclean, The Season