Published!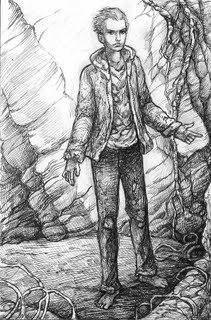 I'm published! My short story "Wendy" was published by
Astonishing Adventures Magazine
last month, and it's free to read and download
here
. It's a slipstream riff on the Peter Pan story: above is my illustration of Peter.
Last year, AAM also published my essay about ancient Rome as depicted in pulp paperback novels from the '50s, '60s and '70s, which I called
Toga Porn
. It's also free to download. I hope you guys enjoy!
It was a great experience working with AAM. I'm now working as art director on a new magazine called
Dark Valentine
which shall be debuting this spring. More to come soon.