Happy Valentine's Day with Belle and Gaston
Sometimes reading fanfiction can be a relaxing break from work (or trying to get work, as is often the case with freelancing). For some reason, I felt in the mood for reading
Beauty and the Beast
fanfic; and when I saw a recommendation for the fanfic of TrudiRose, who wrote about everyone's favorite swaggering heavy Gaston, I thought, "Sure, why not?"
Well, I was really pleasantly surprised. I was not too fond of the character of Gaston beforehand, but such was the author's skill that I found myself actually getting personally invested in what happened to him. In fact, if you're in the mood for some good fanfic, check out
Picture This
and
Man of Stature
-- both by TrudiRose at fanfiction.net. Both stories are smart, entertaining and compulsively readable, and they treat Gaston's character quite differently in both. Check them out-- you won't be disappointed!
Then, for the hell of it, I decided to do some fanart of Belle and Gaston. So here they are: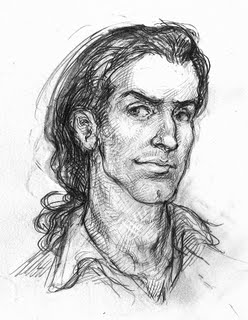 It was a challenge to draw Gaston realistically, since in every screencap I found he's mugging more than Brian Blessed.
DID SOMEBODY ORDER A LARGE HAM!?
As for Belle, I couldn't stand the idea of drawing her in her generic peasant outfit and ponytail, so I put her in a simple but fashionable
robe a l'anglaise
from the late 1770s or early '80s. Her hair is loose and flowing, like the Gainsborough portrait of the
Linley sisters
.
Belle definitely seems to fit into the 1780s, I think. I can just see her in some small village in Poitou or elsewhere, sitting under a tree, reading Rousseau's
Julie
and sighing over the love of Julie and Saint-Preux. And then Gaston would come and annoy her. I am sure he would make plenty of disparaging remarks about Rousseau and other such wild, radical authors, while eying her bosom.
Happy Valentine's Day, everyone!
Labels: Beauty and the beast, Belle, Disney, Gaston